Kelvis Korner Blog
Adventures of a gay Internet Programmer in Southern California. I have enough wacky friends and hilarious stories to keep you interested, or at least mildly amused!
June 5th, 2008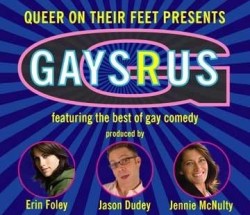 Julian, Mariano, and I went to the Hollywood Improv to check out Gays R Us. Gays R Us is an all gay comedy night at the Improv that I had heard about from listening to Frank DeCaro's show on Sirius' OutQ. Frank was headlining that night and I wanted to check it out. So we headed on over. Since we have never been there before and it's so close to my house, we decided to have dinner there. The food was surprisingly very good. It was of a chain restaurant's consistency like Friday's.
The one perk that I didn't realize was that if we had dinner at the Improv we had first dibs on the seats for the show. So when we finished dinner and headed over to our seats we were front and center. And I mean front and center! We could reach out and touch the microphone if we wanted to. We shared the table with a really nice woman who worked for a lesbian magazine. I think it was Curve. But I'm not sure. She was interviewing one of the lesbian comediennes who also played sports. Go figure

We had a very good time. It was a little too nerve racking for my tastes being up so close, but it was fun! Mariano got picked on, and one of the guy comedians was all about Julian!
I have to say that we all agreed that the women comediennes were way funnier than the guys. Frank DeCaro was cute but only because I'm a fan of his show and know his material. He was really nervous up there performing. I definitely want to go back again! They do Gays R Us every month I believe. I hope it stays funny. And the guys that were there were hot hot hot! Who knew hot boys liked to laugh

I have to do one last plug for GoldStar.com. If you live in a big city you have to sign up for a free membership. They have great deals and discounts on all kinds of shows and events. We got the tickets to Gays R Us for half the price we would have paid if we would have gone through the Improv!!!! It's amazing.