Kelvis Korner Blog
Adventures of a gay Internet Programmer in Southern California. I have enough wacky friends and hilarious stories to keep you interested, or at least mildly amused!
Magical Brownie Night @ Eleven + Mickys + MJ's
We had such a crazy/fun Friday night. We were given some super special brownies to enjoy our friday night with. THANK YOU KEVEN! Mix that in with some alcohol, friends and a visit to Eleven and Mickys and you have the gallery below! The picture at MJ's was taken Tuesday night but I find it fits in well here

Fridays at Eleven is so much fun! We went because my favorite bartender from the Eagle, Justin told us he bartended at Eleven on fridays. Rafael hated it, but I loved it! And the music was awesome too!
Check out the pics below: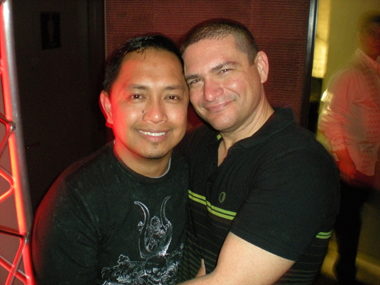 Paul and Rafael

Where is that dirty hand going?

Vogue!

Super Magic Brownies Night

Are we eating after this?

I HEART U GRANT!

JR If only you let us do body shots

Super Fun Gang

MJ's Stripper!

Magic Brownie Hug

Friends Forever!
You can see the the gallery on my Facebook Gallery Page.
83 Comments »
No comments yet.
RSS feed for comments on this post. TrackBack URL
Leave a comment