Kelvis Korner Blog
Adventures of a gay Internet Programmer in Southern California. I have enough wacky friends and hilarious stories to keep you interested, or at least mildly amused!
Chi Chi LaRue West Hollywood Store Opening Party
John and I went to the grand opening of the Chi Chi LaRue store in West Hollywood last night. John came over and we walked down to the festivities. We were kinda early and one of the first ones there. We met Chi Chi and had tons of fun! There was tons of free champagne flowing and Jeremy Bilding was one of the servers. So we hung out with him a lot. John and I took turns taking pictures with our favorite porn stars:Jeremy Bilding, Johnny Hazzard, Barrett Long, and Perez Hilton was there so I needed take a picture to make Alina and Vivian jealous!
The party was over at around 10pm and then we moved over to the after party called Temptation @ Apple Restaurant and Lounge. It was a very beautiful place. I had never been in there before. We hung out at the party for a little bit but I was starving since I hadn't had any dinner! And we had to work friday. So we partied for a little bit then headed over to Greenich Village for some pizza and then we walked back home! I had so much fun! Enjoy the pictures below!
Chi Chi LaRue Van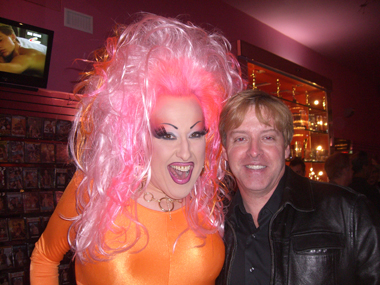 Chi Chi and John

Our Newest Model, Me, and Jeremy Bilding

Chi Chi and Me: Bad

Chi Chi and Me: Good

John and Johnny Hazzard

Johnny Hazzard and Kelvis

Perez Hilton and Kelvis

Barrett Long and John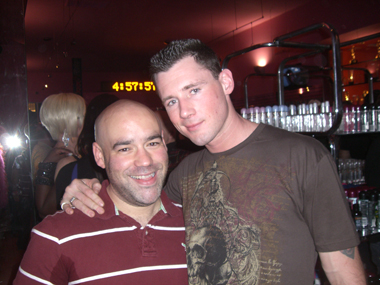 Kelvis and Barrett Long

Porn Guy and John

John next to Chi Chi Mobile
2 Comments »
No comments yet.
RSS feed for comments on this post. TrackBack URL
Leave a comment