Kelvis Korner Blog
Adventures of a gay Internet Programmer in Southern California. I have enough wacky friends and hilarious stories to keep you interested, or at least mildly amused!
uWink: Great Idea, Bad Delivery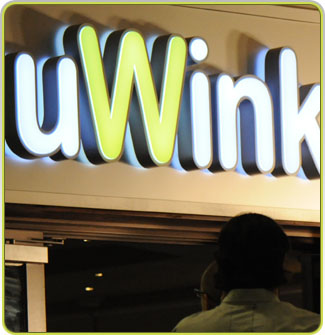 Luis and I headed to uWink for some food and some games. I had heard about this place from my old neighbor Paul. He used to work at Hugo's, and hook us up with free food all the time, and then he moved on to uWink. I never got a chance to visit uWink while Paul was working there since now he's in the Bay Area. Which reminds me I have to text him sometime. Luis and I were excited to go because we got a buy-one-get-one-free entree coupon. You can't beat that shit!
So we headed over to Hollywood and Highland where the uWink in Hollywood is. uWink was started by the creator of Chucke Cheese. The premise is that you sit at these tables and do everything through a computer kiosk. You order all your food and beverages through the computer and then there are games that you play with people in your party and with the whole restaurant. The idea sounds great but….
The games were pretty lame. There were no games that Luis and I could play against each other. The restaurant-wide games were few and came around like once every twenty minutes. It was either a trivia type of game or a photo quiz. After you've been in the restaurant for a while, the games get locked and you can unlock them only if you pay for tokens. I found this really lame because the games were lame. I would never pay for these games. The free games on Yahoo are better. Seriously. And my screen froze every 10 minutes. That was a nice added element of surprise.
The worst part about the whole ordeal was the food. It was mediocre at best! I had a burger with fries. The burger was ok but it all fell out and was messy. The fries tasted like crap you can fry at home from the freezer. Luis had a burger and mashed potatoes and the burger had the same issue as mine, messy and it was all over the place. His mashed potatoes tasted like instant!!! GHETTO. And can you believe this, they did not have any honey mustard. I love honey mustard. Any restaurant that's a diner that doesn't have it makes me suspicious.
We were so disappointed because there is so much potential in this type of social restaurant but it didn't deliver. Would we go again? Yes only because we have one more 2-for-1 coupon to use. After that we'll never go there again. We'll try something else off the menu, but I bet it's gonna be crappy! At least Dave and Busters and Gameworks has food comparable to Fridays. Denny's could beat uWink easy in a competition. EASY!
No Comments »
No comments yet.
RSS feed for comments on this post. TrackBack URL
Leave a comment