Kelvis Korner Blog
Adventures of a gay Internet Programmer in Southern California. I have enough wacky friends and hilarious stories to keep you interested, or at least mildly amused!
Archive for September, 2008
Friday, September 26th, 2008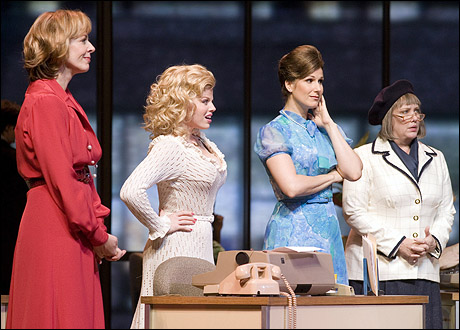 Luis and I went last night to check out 9 to 5 the Musical at the Ahmanson Theater! I've been wanting to see this since Goldstar put up tickets to their preview. They were sold out! Since then I've been checking everyday to see if they post more tickets. The play is here until October and then it goes to New York where it will hopefully be in Broadway for a long time.
The minute Goldstar put some more tickets up I grabbed them! The Ahmanson has to be my favorite theater. The Pantages is beautiful and it's right in Hollywood, but there is something about the energy in Downtown that makes this theater special to me! I would definitely live in Downtown. It's changed so much and it's on the up and up! The Mark Taper Forum just reopened recently, so I'm excited to see what events come to that venue! The plan was to go home from work, get ready and take the metro. When I took a shower it was hot as hell. I didn't want to take the bus all the way to the subway station so I just drove in.
There was crazy amounts of traffic on Sunset but it turned out it was because there was a game going on at Dodger Stadium. Once I avoided that area it was smooth sailing. Right when I got a couple of blocks away from The Music Center, Luis called that he emerged from the subway station. He was coming in from the red line in North Hollywood. I thought the parking was going to be crazy expensive but it turned out to be only $8.00. And there were about eight floors of parking underground! So that was nice. One fast escalator ride up to the surface and I was right in front of the Ahmanson.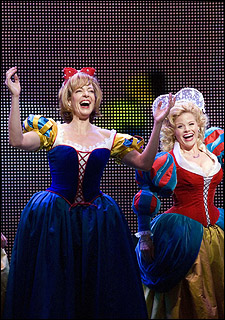 I went to will call to get our tickets. We had about 30 minutes before the musical started so I decided to get some snacks because I was starving! We're never early to these events so we were spoiled! When it was time to sit down, our seats were pretty good. They were upstairs towards the back, as is usual with Goldstar, but you could see the stage perfectly. The price of the tickets were $34.00 for each ticket. Which was a nice deal!
The show was absolutely breathtaking. I enjoyed the music, the acting, and the stage and props. It has to be the most advanced stage I have ever seen in a Broadway play. Things came flying in and out, and as the actors moved, the set would move around them. It was very cool! Act I was very true to the movie, which I loved, and Luis hated. All the great lines from the movie are there! Act II strayed away from the movie somewhat. I would have to say that my favorite was Act I. The songs were fun, and the acting was top notch. Allison Janney wasn't the greatest singer, but she was great in it! My favorite part is when they dream to kill the boss and she is dressed up in a Snow White costume. It's priceless!! Dora Lee was played by Megan Hilty and she was phenomenal. She sounded like Dolly, looked like Dolly, and was an amazing vocalist.
I loved one of the songs that Dora Lee sings called Backwoods Barbie. It's also on Dolly Parton's new CD and it was the name of her Musical Tour that I got to see at the Greek Theater! It was amazing to me that Dolly wrote all the music for the Musical! If you are in LA before the play leaves for NY in October, definitely check it out!!! The audience was so alive which tells me it's going to be an audience favorite!