Kelvis Korner Blog
Adventures of a gay Internet Programmer in Southern California. I have enough wacky friends and hilarious stories to keep you interested, or at least mildly amused!
My Birthday Pics: I'm 31 and holding….
Rafael, Brian, and Myself

Mariano Working his Over It Pose

Luis and Heidee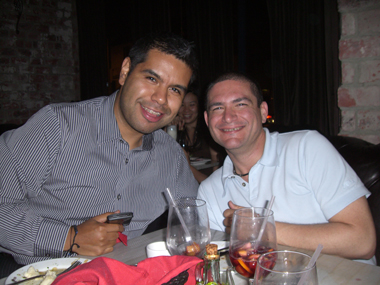 All Smiles

Ivette and Luis

My Shiny Head with Ivette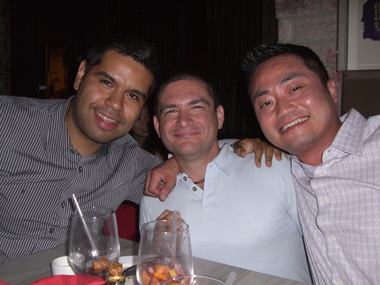 Who Has the Fakest Smile?

Mariano Giving His Botox Face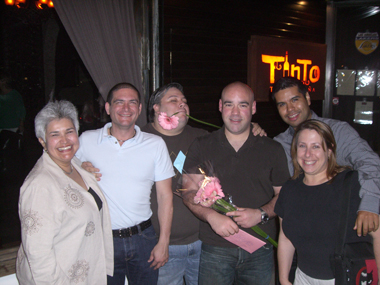 Outside the Restaurant

Mariano, Me, and my Pit Stain
For my 31st birthday, I know it's hard to believe that I'm that old, the plan was to go out to dinner at Tinto Tapas in West Hollywood and then check out my favorite show on Wednesday Nights: Candis Cayne @ FuBar! I loved the restaurant. It was a Tapas place, and I was in the mood for it ever since we went to the one in Vegas with Franklin: FireFly.
I loved the food. I think everyone was over at how expensive it was. I had a really good time. And note that in the pictures I make look shiny and red, it's because I was fucked up on Sangria. Believe it! For dinner we had a good showing. It was: Luis, Ivette, Heidee, Mariano, Rafael, and Brian. And of course me! After dinner we all had the bright idea of walking down to FuBar. It was a little far. People were tired and over it when we got there but everyone got all spiced up when the show started. Everyone except Mariano…He couldn't go because he had a presentation the next day blah blah blah…..blah.
He did make it up by taking me to get a massage the next day, so that was awesome! The show was so much fun! I think everyone had fun. It was great. Too bad I'm getting so old otherwise it would have been perfect!
2 Comments »
No comments yet.
RSS feed for comments on this post. TrackBack URL
Leave a comment