Kelvis Korner Blog
Adventures of a gay Internet Programmer in Southern California. I have enough wacky friends and hilarious stories to keep you interested, or at least mildly amused!
Club Nur: Middle Eastern Night @ MJ's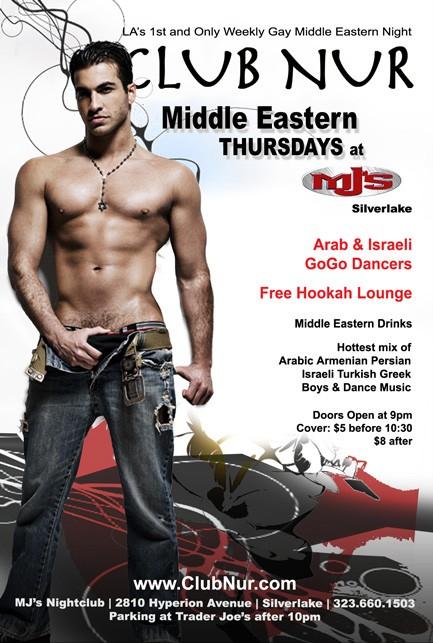 Rafael texted me from work Thursday saying that we should go out and check out Club Nur: Middle Eastern Night @ MJ's in Silverlake. It was funny because minutes before I was reading my email newsletter from MJ's where they were advertising Middle Eastern night. The strippers looked hot, and I have a weakness for middle eastern guys!
So Rafael came over after work. We had a nice hike with Lola down to Hamburger Mary's. He was starving. I was so-so. We sat outside with Lola and I had two very strong Apple Mojitos. I was fucked up. AGAIN. The walk back up to the apartment took a lot of coordination! We finally reached my place and Mariano said he would come out with us. I didn't think he was going to come. At one point in the night he cancelled but I threatened never to talk to him again, so he showed up!
It was very cute. They decorated the inside of MJ's with a middle eastern theme. There were Persian rugs everywhere, the music was middle-eastern dance music, and the guys were so cute! The outside area was my favorite. They made some nice seating areas from rugs and had lamps lighting up the whole place. Did I mention there were middle-eastern strippers? HOT HOT HOT. We saw Rami from Project Runway Season 3. This is the second time I see him out-and-about in LA. I had an inkling that I'd see him there since they had a picture of him at the Club Nur website.
We all had such a great time! If you are ever in the Silverlake area on a Thursday night, make sure to check out Club Nur @ MJ's!
1 Comment »
No comments yet.
RSS feed for comments on this post. TrackBack URL
Leave a comment