Kelvis Korner Blog
Adventures of a gay Internet Programmer in Southern California. I have enough wacky friends and hilarious stories to keep you interested, or at least mildly amused!
Demon Barber from Fleet Street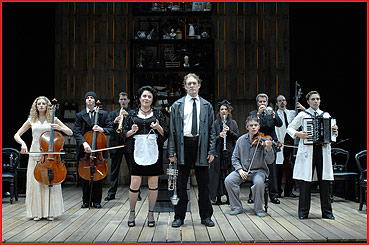 I checked out Sweeny Todd last night at the Ahmanson Theatre in Downtown Los Angeles. I went with Heidi and we took the metro again. This time however, she didn't drive from Long Beach to meet me in North Hollywood. I tok the metro from North Hollywood, and she took the metro from Long Beach and we met downtown. This gave us some time to actually have dinner! Unlike last time where we were sprinting just to get our tickets in time.
We were going to have dinner at the Pinot Cafe which is on the elvated terrace overlooking downtown at the Music Center. The prices were a little too high so we decided to go the SubWay! You can't beat the Dinner for 2 for 8 bucks thing! It was nice and refreshing to take our time and eat before the show. The weather was beautiful and the sun was setting just as we were taking our seats.
The play was ok. Act I was kind of slow for me. Everything seems to happen at the end of Act II. What was really cool is that all the actors handled the musical instruments as well. There was no orchestra. The actors never left the stage. When they were not acting, they were playing instruments. It was very cool. The play itself was very muted and simple. The set didn't have any special effects. Heidi told me that I would enjoy the movie a whole lot better!
So there you have it!
This Thursday I'm going to check out Varla Jean's A Foreign Tongue. Varla Jean was one of the "actresses" in a great movie called Girls will be Girls. If you haven't seen the movie check it out! It's hilarious! Seriously. There are great one-liners in that movie! I'm taking Rafael for his birthday! We're gonna have tons of fun!
1 Comment »
No comments yet.
RSS feed for comments on this post. TrackBack URL
Leave a comment