Kelvis Korner Blog
Adventures of a gay Internet Programmer in Southern California. I have enough wacky friends and hilarious stories to keep you interested, or at least mildly amused!
Just Us Boyz Porn Party
I went to my first adult party after starting work at JakeCruise.com. I have to say that I love my job. It's so laid back, the people are great, and the work is very interesting! I get to do my favorite thing which is programming in PHP and I do it in a porn environment! Who could ask for anything more! I even had the opportunity to go to my first Jake Cruise porn shoot! I was shy at first, but then I got over it! I remembered how much I loved this industry from the time that Luis and I used to film. This is definately the industry for me!
I've been fighting a cold lately but I had to check out the first porn party that Just Us Boyz threw. They are expanding to a bimonthly magazine and JakeCruise advertises in the magazine. They let us know they were having a party in West Hollywood. No one else from work made it but sick and all I had to see for myself. I brought along Luis, Joe, and Mariano. It was the first time that I went to Club 7969, which apparently is a tranny bar. They had a little red carpet which made everyone nervous! We waited in line for little while and then we were let in. We were given a free drink ticket and a ticket for the gift bag! The club was very cute. It had booths and lots of seating. There was another smaller room with a bar towards the back. We hung out for a while until 10:15 PM when Jackie Beat came on to perform.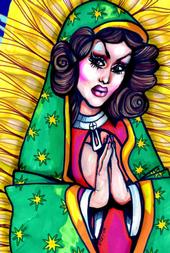 I think Luis and I are her biggest fans. We recognize every song that she sings! Of course they were having a raffle, and of course Luis won the bag-o-lube! He has that crazy luck. So after Jackie bit did Dildo's are Forever and Baby Got Front, she brought the boys of RandyBlue.com on. They were hot hot hot! It was a little disorganized because they didn't know what to do at first. Once they were comfortable they started walking around the crowd. There was no full nudity though! Dang!
I definately look forward to more of these parties in the future. I missed the Adult Conference in Las Vegas. My boss got to go, maybe I'll have a chance to go next year. Luis and I are definately interested in starting a site again in a year or so. Whether we do go through with the idea or not, I think this is definately the industry for me! I've been very lucky in my life and this is just another example of it. I couldn't ask for a better situation. I love my job, I love my industry, and I love my boss. He's the best, and Cuban too!! Hello!
I have to start taking more pictures! I left my camera at home when we went to the party. That won't happen next time. I'm gonna go get some rest and hopefully recover from this cold! Until then.
1 Comment »
No comments yet.
RSS feed for comments on this post. TrackBack URL
Leave a comment