Kelvis Korner Blog
Adventures of a gay Internet Programmer in Southern California. I have enough wacky friends and hilarious stories to keep you interested, or at least mildly amused!
Finally New Redesign is Complete (Well Almost)
I can't believe it. After countless days wrestling with CSS and testing my site on different browsers, the new redesign is here!!! I got inspired by the blog conference that I went to for my company. Their website was very simple, clean, and visually gratifiying. I'm very pleased with the new look. Let me know what you think! I'm also excited because it's been too long since I've written in my blog! I definately have a lot of stories to tell! For now though take a look at the old site vs. how the new site looks! I think you'll agree that the new site is way better!!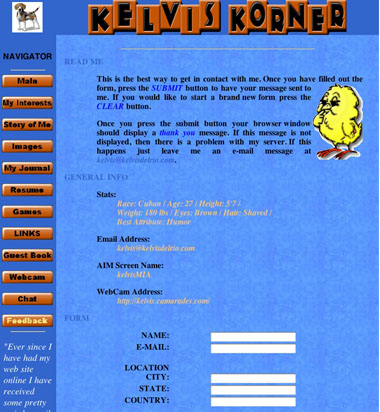 This is the Old Kelvis Korner (1998)

This is the New Kelvis Korner (2005)
No Comments »
No comments yet.
RSS feed for comments on this post. TrackBack URL
Leave a comment