Kelvis Korner Blog
Adventures of a gay Internet Programmer in Southern California. I have enough wacky friends and hilarious stories to keep you interested, or at least mildly amused!
Archive for August, 2005
Friday, August 19th, 2005
Friday, August 12th, 2005
Wednesday, August 3rd, 2005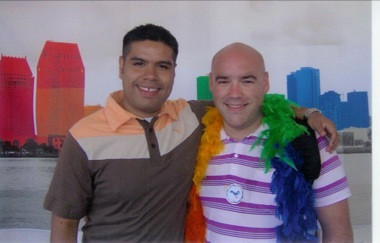 Mariano and I had a great time at San Diego this past weekend. We headed down for Pride Weekend and it was also my first time down there. San Diego was very beautiful and super chill. I love the rolling hills leading down to the beach. It was incredible. The people were very nice and Pride was lots of fun. I put up the image gallery of San Diego so take a look!
We had an action packed weekend. Even though we got there Friday night and left Sunday afternoon we were able to squeeze in:
+ HillCrest NeighborHood(Gay Area of San Diego)
+ Pride Parade on Saturday
+ Pride Festival at Balboa Park
+ The Beach on Coronado Island (by the famous resort)
+ Baccus Bar
+ SeaWorld
Anyone who has done a vacation with me knows I'm not there to play games

We'll see all the sights possible.