Kelvis Korner Blog
Adventures of a gay Internet Programmer in Southern California. I have enough wacky friends and hilarious stories to keep you interested, or at least mildly amused!
Coffee Mug Collection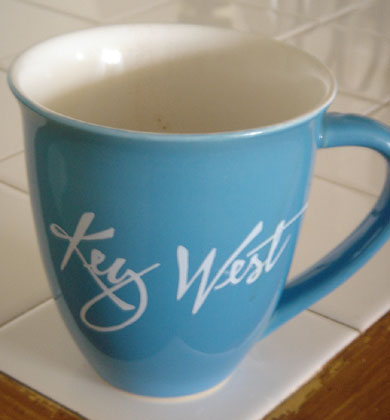 I just added a new hobby to my list. Everytime I go on vacation now I will be hunting down a coffee mug with the location that I am visiting. I figure people collect all kinds of tacky stuff when they are on vacation, which I love, so I figured I'll actually collect something that I use daily!
I'm a huge java nut! I must drink at least two cups a day, which I'm sure is great for my blood pressure! I have a couple of cool mugs that I use, and currently my favorite cups are the two key west coffee mugs that I picked up during my last trip. When I take my vacation in June I'm not coming back until I have a coffee cup from Las Vegas and Los Angeles. And of course I'll be taking pictures of them to show you guys, after all what's the point of my digital camera if I don't use it often!
My search for apartments on the beach is going very slow. Every place tells me that I have to wait until the end of May before I start looking. This really sucks because I want everything worked out before I go on my trip. I hope it all works out. If I had to guess I'll probably be going with Streamline Properties, only because their pet fees are super low and I wouldn't have to pay the application fee. Also they were the first company I went with when I moved to beach and I really liked them.
No Comments »
No comments yet.
RSS feed for comments on this post. TrackBack URL
Leave a comment