Kelvis Korner Blog
Adventures of a gay Internet Programmer in Southern California. I have enough wacky friends and hilarious stories to keep you interested, or at least mildly amused!
The Ring Affects Pets Too
This is what happens when your pets watch The Ring. The movie showed that when people watch the home-made video any pictures that they appear in are blurred out. However, no one ever knew the same thing could happen to your pets if they are exposed to the same video… Click here to see how much does this pooch cost.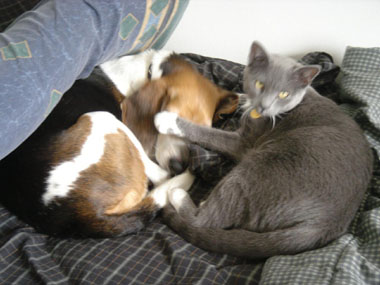 Rocco tries to protect Lola by blocking her view of the movie.

Lola, hard-headed like her master, watches in defiance.

Now any picture I take of them comes out blurry.

Who knows how much time they have left!

Try the best vacuum for hardwood floors and pet hair now!
No Comments »
No comments yet.
RSS feed for comments on this post. TrackBack URL
Leave a comment